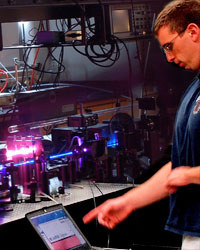 MS in Physics Degree Requirements


 PhD in Physics Degree Requirements
UMBC's Physics MS and PhD programs are structured to provide concentrations in materials and solid-state physics, optics and astrophysics with research opportunities in each area. The research in the materials and solid-state physics concentration includes the classical and quantum properties of condensed matter, with emphases on solid-state, surface physics and polymer physics. The research in the optics concentration includes the interaction of electromagnetic radiation with matter, with emphases on optical and infrared spectroscopy, nonlinear optics, quantum optics, quantum computing, light scattering, atmospheric optics and atmospheric physics. The research in astrophysics focuses on the analysis of high-energy observations and examination of galaxy formation.
The general research areas have sufficient overlap that students in any can benefit from courses offered in the others. Both optics and materials areas have relevance to research programs in other UMBC departments including physical chemistry, electrical engineering and mechanical engineering. The astrophysics program has a strong link to the facilities at NASA's Goddard Space Flight Center (GSFC) through the department's Joint Center for Astrophysics (JCA) and UMBC's Center for Space Science and Technology (CSST) programs. Physics graduate students have the opportunity to interact with graduate students and faculty in several other departments at UMBC and local government laboratories.
MS in Physics Degree Requirements
The MS degree is a 30-credit program with thesis and non-thesis options, suitable for full- or part-time students. The program typically takes full-time students two years to complete, with students usually taking two or three courses per semester during the first three semesters. Students selecting the thesis option take seven lecture courses, including the two required courses (quantum mechanics and mathematical physics) in addition to thesis research. The non-thesis option requires nine lecture courses and a research paper. All students attend the department's weekly seminar series, which provides opportunities to learn about current advances in the field, presented by leading researchers.
The program can be readily customized to a student's special interests, since there are only two required lecture courses. The remaining courses are chosen with the help of a faculty advisor from a selection of specialist courses offered each semester.
Students choose their electives from about 15 courses offered regularly by the department. Electives may also be selected from course offerings in other departments such as Computer Science, Electrical Engineering, Mathematics and Chemistry.
PhD in Physics Degree Requirements
The minimum requirement for the PhD degree is 46 credit hours, with 28 credit hours of lecture courses at the 600 level or higher and 18 credit hours of doctoral research (PHYS 899). All prospective doctoral students must complete the PhD core curriculum consisting of
PHYS 601: Quantum Mechanics I
PHYS 602: Statistical Mechanics
PHYS 605: Mathematical Physics I
PHYS 606: Classical Mechanics
PHYS 607: Electromagnetic Theory
In addition to the PhD core curriculum, doctoral students also must pass the courses listed below, as well as a minimum of 18 credit hours of PHYS 899: Doctoral Thesis Research
PHYS 640: Computational Physics
PHYS 690: Professional Techniques in Physics
PHYS 701: Quantum Mechanics II
PHYS 705: Mathematical Physics II
PHYS 707: Advanced Electromagnetic Theory
Also, all students are required to take PHYS 698: Physics Seminar for three semesters. With the permission of the graduate advisor of the Physics program, students specializing in Atmospheric Physics may substitute PHYS 621: Atmospheric Physics I, and PHYS 622: Atmospheric Physics II for PHYS 701 and PHYS 707, respectively. They may also substitute PHYS 732: Computational Fluid Dynamics for PHYS 640.
To be admitted to candidacy for the doctoral degree, students must complete the PhD core curriculum with a grade of "B" or higher in each core course and pass a written qualifying examination. The written qualifying examination covers all of undergraduate physics and it is divided into three segments. Each segment is separately passed or failed. The entire examination is offered in August and January. The examination must be taken no later than one year after admission into the PhD program. Students who fail a segment of the qualifying examination must retake that segment at the next opportunity. Students who do not pass the entire qualifying examination by the beginning of their third year of being in the doctoral program will not be admitted to candidacy for the PhD degree.
After passing the qualifying examination, a prospective doctoral student must select a faculty advisor to supervise their dissertation research. Usually dissertation research is performed under the direction of a tenure-track faculty member of the UMBC Department of Physics. After selecting an advisor, a student should begin acquiring the necessary background knowledge and skills to conduct research and develop a research plan. Within 12 months after passing the qualifying examination, students, in consultation with their advisor, will form a preliminary committee consisting of the advisor and at least two other faculty members from the UMBC Department of Physics. At least two of the members of this committee must be tenure-track faculty. The preliminary committee is charged with determining whether a student should be admitted to candidacy for the PhD degree. A recommendation to this effect must be made to the full physics faculty no later than 18 months after a student has passed the written qualifying examination. The full faculty then will vote whether to recommend to the Graduate School that the student be admitted to candidacy for the PhD degree.
Immediately after it has been formed, the preliminary committee will meet with the student to discuss the proposed research project and progress to date. The committee will inform the student of any actions he or she must perform satisfactorily for the committee to make a positive recommendation to the faculty.
In formulating its recommendation, the committee may gather and consider any relevant information concerning the student's potential for performing research at the doctoral level. This information should include, but is not limited to, the student's overall graduate record, a written research proposal and an oral presentation of the research project.
After admission to candidacy and completion of the research, the student will be required to write and defend a dissertation before a committee constituted in accordance with Graduate School regulations. This research should be of a quality suitable for publication in a referred physics journal. The chair of this committee must be a regular member of the graduate faculty and a tenure-track faculty member in the Department of Physics.